Weekly news
We want to hear from you! Go to the
'General'
section and say what you want to say. Start a new topic if you wish.
Who is online?
In total there is
1
user online :: 0 Registered, 0 Hidden and 1 Guest
None
Most users ever online was
50
on Sat Jan 07, 2012 4:00 pm
Statistics
We have
490
registered users
The newest registered user is
Poisonberries
Our users have posted a total of
15557
messages in
1329
subjects

Gengar @ BlackSludge
Ability: Levitate
Ev's: 252 Sp.Attack 252 Speed 4 Hp
Nature: Timid
-Substitute
-Shadowball
-Focus Blast
-Disable
Well this guys purpose is really just to get up a free Sub, and start sweeping. Disable is for Choice pokes. Lets say i suspect them to be scarfed and im already behind a sub. Re-sub then disable. Re-sub because they will be faster and disabl will probably Fail.

Blissey @ Leftovers
Ability: Natural Cure
Ev's: 252 HP 100 Sp.Defence 152 Defence
Naure: Bold
-Softboiled(obviously)
-Seismic Toss
-Toxic
-Defence Curl
I know this set gets completly walled by Gengar, but a Gengar most likely thing it would do is focus blast. Then i can switch into my own and jusr completly avoid the attack.

Skarmory @ Leftovers
Ability: Sturdy
Ev's: 252 HP 252 Defence 4 Sp.Defence
Nature: Impish
-StealthRocks/Spikes
-Brave Bird
-Roost
-Whirlwind
Yeah, im not really sure weather to have Stealth Rocks or Spikes on this guy so leave a comment saying what you think. But really this guy is to set up entry hazards and whirlwind thing into it. Brave Bird can OHKO Volcarona (them expecting switch, set up quiver dance and get KO'd

Porygon-Z @ Choice Scarf
Ability: Adaptability
Ev's: 252 Sp.Attack 252 Speed 4 HP
Nature: Modest
-Tri-Attack
-Thunderbolt
-Ice Beam
-Hidden Power [Fire]
Just one thing im curious about. Does Hidden Power get a doubled power boost from Adaptibility? but other than that its just a Sp.Sweeper with the bolt beam combo then if they do have magnezones then HP Fire can take them out.

Salamence @ Leftovers
Ability: Intimidate
Ev's: 252 HP 58 Defence 200 Sp.Defence
Nature: Careful
-Dragon Dance
-Roost
-Brick Break
-Dragon Claw
Same as last time really. But this time his purpose is to Come in on things like infrenape who destroy the SkarmBliss combo with resistance to both of there weaknesses. And obvoiusly he can come in on psyhicial attackers and Intimidate them.

Gurdurr or Porygon2 @ Eviolite
Ability: Guts and Trace
Ev's: 252 HP(for both) 252 Sp.defence(Gurdurr) 128 In both Defences for Porygon2
Nature: Careful for Gurdurr and Bold or Calm for Porygon2
Gurdurr:-Bulk up--Drain Punch--Mach Punch--Payback
Porygon2:-Recover--Psychic--Thunderbolt--Ice Beam/Hidden Power [Grass]
Yeah, i wasn't really decided on who to use out of these two...I know what your going to say use Conkeldurr not Gurdurr. Well It only has 20 less Defence Point with no Ev's and with both of them having max Sp.Defence there 20 less Again...Its HP at max are under 50 Difference and With Eviolite it can take more shot on the Sp.Defencive side of things.With Porygon2 i have psychic for fighting types and Thunderbolt for Gyarados'...Then i have Hidden Power grass for Gastrodons and Quagsires. Or Ice Beam for dragon with the x4 Weakness to it. Just state any changes to this whole team, and ill try them out.




Last edited by Jamie on Wed Sep 14, 2011 11:31 am; edited 1 time in total (Reason for editing : Title)
I decided to go With Gurdurr. Just not to have 3 Normal types on the same team
First, it's good to tell the people who is usually thrown out first. A well structured team with just a little more changes, because I see the biggest Gengar weakness to your team.
Sure you can switch in Gengar on Focus Blast, but are you going to trust Speed Ties? I would suggest probably something like a Sweeper that can outspeed and kill it.(probably throwing out Porygon-Z sorry)
HP fire doesn't get the Adaptability boost. It only powers up moves it gets from STAB. Porygon-Z can be switched for something else really. (Mainly a sweeper like I said)
Now for Salamence. I like the synergy you threw in with BlissSkarm to beat down Mix Attackers that threaten the 2. Earthquake > Brick Break. Many Mix Attackers are weak to Earthquake. I also suggest running a more Speedy set for Salamence so he can outspeed Nidoking. (Which I see a significant weakness to).
Gurdurr I've tried myself. It's not the best Tank and it's Attack is Lackluster (even after a Bulk up) I suggest Conkeldurr with more rounded Defenses and Leftovers. Or just use Porygon-2.
All my ability to help your team out.
_________________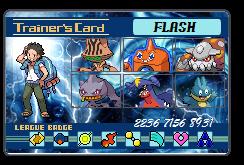 saggot toss anchuro
Frashu's theme:
http://vocaroo.com/i/s08FyHGN0e83
copyright gary saulman
Admin





Posts

: 1121


Join date

: 2010-09-13


Age

: 21



Ok, so EQ on Salamence...And sure ill try out porygon2 instead of Gurdurr, But what sweeper would you recomend?
Actually, Flash, his Gengar outspeeds common Gengars. Most of those carry HP Fire, which needs 30 Speed IVs
Dream





Posts

: 308


Join date

: 2010-09-12


Age

: 25


Location

: Brazil



Actually, most gengar use 2 moves, Focus Blast and Shadow Ball, and Substitute. The last move differs. About 1/2 of the gengar (I think gengar is plural..) out there, and another good chunk uses pain split for blissey and destiny bond. HP Fire is usually just for jirachi and bronzong, and I often see thunderbolt in the last slot to handle bulky waters and skarm.

I'd say use dragonite instead of salemence, just like in your last RMT. (Did you even try it? D:) The few advantages salemence has over dragonite are speed, higher attack and special attack stats, and moxie. Your set actually uses none of these advantages. Dragonite has better natural bulk and a better tanking capacity in multiscale. Though salemence does pack intimidate, mulitscale is still better for taking physical hits. Also, salemence's special defense isn't helped by intimidate the way dragonite's multiscale works.

You have 3 walls, so I'd suggest some sort of toxic spiker for that.
Dream





Posts

: 1131


Join date

: 2011-02-28


Age

: 21


Location

: Imaginationland



Ive never seen a Gengar with destiny bond, and anyway, ive never accutually used toxic spikes before


Similar topics
---
Permissions in this forum:
You
cannot
reply to topics in this forum