Weekly news
We want to hear from you! Go to the
'General'
section and say what you want to say. Start a new topic if you wish.
Who is online?
In total there is
1
user online :: 0 Registered, 0 Hidden and 1 Guest
None
Most users ever online was
50
on Sat Jan 07, 2012 4:00 pm
Statistics
We have
490
registered users
The newest registered user is
Poisonberries
Our users have posted a total of
15557
messages in
1329
subjects

Hello everyone this is FloashDPro, my new team I have created and although it's good, it gets literally destroyed due to OU whores and cheap strategies and standard sets and even teams which you see everyday.
One problem is that no matter how many times I change it, the team will usually lose to the cheap-ass strategy called Gliscor and Ferrothorn butt buddies. Frankly this is the most pointless and unthought strategy that just happens to annoy the shit out of people. Ferrothorn becomes the asshole it's always been not dieing to anything besides super effective hits(it may even survive those) and Gliscor taking all the Fighting attacks that Ferrothorn can't while Toxic Heal Protect stalling with Ferrothorn's source of gayness the Leech Seed. Ferrothorn ALSO has Protect which makes matters gayer than a sack of peanuts.
I have tried using pokemon with grass moves to counter Ferrothorn's leech seed or HP fire. But then Ferrothorn can either attack the usually physically frail Grass type with Gyro ball, or switch into Gliscor and stall the shit out of it. If I try switching out Ferrothorn counters the other guy. Together they are annoying simply put. Soooo. Here's the team, comment, suggest things to fix it up. Thank you very much.
Please also support the poor players who get fucked up by such a simple strategy. No flames please I just need more support to beat these guys.
Garchomp
252 hp/180 def/16 sp.def/60 Speed.
Jolly Nature Sand Veil
Dragon Tail
Earthquake
Stealth Rocks
Toxic
This my friends is what I call a lead. Some people may think Swampert outclasses this guy in every way. 2 reasons why I use this guy over Swampert. This guy has more offense and speed and can set-up the rocks with about the same physical bulk as Swampert. The second reason is that he has no weakness to grass and can resist various moves effectively. Also, to be honest, I do not like Swampert. He's very boring to me and he uses the same set everytime. He's more predictable and he has a new worse enemy. Ferrothorn. #1 on the usage ladder, people use him so much it's ridiculous. Evs let him take hits really well, he can phaze and cause damage with 296 atk with no investment and 90 base attack. Earthquake is for the stab and toxic takes down walls than usually expect an offensive set.
Scizor
Leftovers
252 hp/252 atk/4 def
Technician Adamant
Swords dance
Bullet Punch
Bug Bite
Superpower
Scizor is still running hot lately with his monotonous Choice band set and Swords dance set. I personally prefer the Swords dance set because if I can get enough Swords dances up, I can actually beat the Ferroscor combo and pull off a sweep. He will get beat if the opponent just somehow takes it out before it can do so, obvious counters would be Heatran ( Which he itself adds to the FerroScor madness) and pretty much anything that resists BP, on good health, and can take it out with fire moves.
Darmanitan
252 atk/ 252 Speed/4 hp
Jolly Nature Sheer Force
Choice Scarf
Flare Blitz
Rock Slide
Superpower
U-Turn
My source of power for the team, the one that takes everything down 2hkoing Latios and Gliscor with Flare Blitz (If Gliscor is poison heal protect we can scratch that). It can even 2hko Tentacruel in some situations. Problem here, God knows what can take this thing down. It literally dies in 2 seconds with Stealth Rocks, Flare Blitz Recoil, Priority. I even lost once because I used Flare blitz on Ferrothorn he switched into Blissey, I killed it and I died to recoil. 3 moves for coverage and U-Turn for scouting. U-turn is a great move IMO but since I only have 3 offensive pokemon it's somewhat redundant in usage for me. Choice scarf makes his good speed even better and simply destroy teams.
Deoxys -S
252 Sp.atk 252 Speed/ 4 Def
Modest Life Orb
Psycho Boost
Ice Beam
ThunderBolt
Focus Blast
Another source of sheer coverage and strength which strangely enough loses to Ferrothorn. Focus blast your thinking right? Wrong. It takes Focus blast in 60% of damage even with Life Orb. After he leech seeds, protects, and half of my life is gone and I need to hope for 2 more blasts will hit to kill it. Well that sure backfired. Well Deoxys can beat scarfers and beat them with a extremely powerful Psycho boost. BoltBeam beats common DDers such as Dragonite and Gyarados at +1. Focus blast beats Tyranitar if it hits. IF it hits. Overall a really helpful asset to my team.
Bronzong
(I searched up Bronzong and I got this instead so whatever.)
252 hp/84 atk/80 def/92 Sp.def
Sassy Leftovers
IV speed 2
Earthquake
Hidden power(Ice)
Gyro Ball
Toxic
Bronzong is great against pokes such as Garchomp which resists both of it's stabs and can 2hko with HP Ice. HP ice beats Dragon and Flying pokemon with really destroy this guy. I won't take HP ice off this guy because believe me, this works ALOT more than it looks like. Toxic for taking down Bulky waters obviously (Unfortunetely Ferro and Gliscor both cannot be toxiced) and beating pokemon who it can't normally beat. Gyro Ball does massive damage to anything fast really and can 2hko +1 Haxorus which HP ice just isn't strong enough to do since it's pure Dragon. Earthquake nails Heatran on the switch and various pokemon. Nice asset to my team being the Dragon Killer.
Milotic
252 def/ 252 hp/4 sp.def
Bold Leftovers
Recover
Hidden Power(Grass)
Scald
Toxic
Personally right now HP grass is for handling Swampert and Quagsire but I'm thinking of making it HP fire since I can pretty much beat them both using toxic. Milotic does lose to Ferrothorn by getting leech seed stalled then Power Whipped later. Bulky Water obviously helps and can take down various pokemon such as Infernape, Terrakion using it's great defenses. Scald can cause status and Recover let's it recover because Recover is good. Leave your opinion about this guy and the Hidden power debate thing. Marvel Scale helps it switch into Will-o-wisps and become even MORE bulkier which is a good thing.
Thank you for wasting your time when you could've been doing something else. If you can help me out here I would be grateful for that. Rate, Comment, and reccomend for a better balanced team. Oh I almost forgot.
HEHEHHEHEHEHEHEHEHHEHEHEHEHHEHEHEHEHEHEHEH.
_________________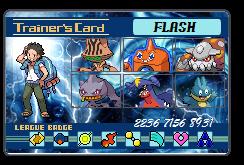 saggot toss anchuro
Frashu's theme:
http://vocaroo.com/i/s08FyHGN0e83
copyright gary saulman
I like your team as of yet, but I have a few comments and tips on the setup that might help its win-loss ratio.

1. Garchomp – Garchomp wasn't fully accepted as a lead last generation, and it won't be this generation either (most likely). It didn't get any notable upgrades that might allow it to serve as a good lead, and the opposition is only more ice friendly. The popularity of cloyster increased just about tenfold, and with ice shard and skill link, it is unlikely that your chomp will do anything but get Shell Smash set up on it, and then killed by skill link. It might even spin away the hard-won SR. It also loses to other common leads. For example, azelf, the most common lead last generation, will just SR up, and it doesn't even need to explode. This chomp can't hope to do more than toxic, and azelf is meant as a suicide lead anyways. It even outspeeds this version. Tornadus can taunt you turn 1, making you unable to hurt it. It can smack you with a hurricane, and the best that can be done to it is dragon tail. Machamp leads kill with dpunch and can survive anything you can throw at it. Sleep leads such as roserade also walk right over this, and erufuun can easily leech seed and stall away with substitute. I noticed that most of your pokemon have toxic, so instead, I suggest a lead that can possibly t spikes and stand up better against common leads.
2. Scizor – I like this pokemon. Nothing more to say. The only problem is that it shares a common fire weakness to bronzor and it doesn't take care of pokemon such as ferrothorn. Brick Break could possibly be switched with bug bite so you can also set up on the once-troubling pokemon and then defeat it. It only has some lame power whip that is 1/4x damage, and you can easily set up a SD or two if subseed. It can't phaze either, so I suggest using brick break to turning Ferrothorn into setup fodder, as you seem to have a problem with that pokemon. It also ranked number one as the most common pokemon, so switching the moves might be worth it.
3. Darmatian – I think this pokemon is good, but I suggest running jolly and using a life orb. This doesn't have recoil when used with moves with secondary effects, and might be useful as not to recoil yourself into oblivion, though flare blitz would then have double recoil. A choice scarf may serve well anyways.
4. Deoxys-s – I hate deoxi, ever since I watched a pokemon movie. It looks effective.
5. Bronzong – I don't like stall pokemon, because I'm an offensive person, but this looks like it could work. It stops dragonite dead in its tracks, though fire punch variations can hurt a lot after a while. I agree with the general dragon countering thing, though, problem being, do you really need to donate one pokemon to the sole reason of defeating dragons?
6. Milotic – I love milotics. My favorite pokemon on your team, though if you run toxic anyways, why use scald? Surf is slightly stronger.

Optional additions to your team –

-Magnezone

Magnezone is a for-sure counter to ferrothorn if it gives you trouble. Magnet pull traps ferrothorn, and after a sub, it can't do anything but get set up on by charge beam. Afterwords, magnezone gets real sweeping potential. However, its utility is kind of limited, so don't depend on it only.

-Jirachi

One of the best additions to basically any team. Its serene grace abuse is hair-tearing, and it can also set up screens and abuse them with your defensive team. Howeverm it raises the fire hazard.

-Breloom

Brelooms are awesome. Just go to any place any see what foul names they call you when you pull it out and sporepunch or techniloom your way through.

-Haxorus

Attach scarf. Kill stuff.

-Salemence

DD. Kill Stuff.

-Roopushin

Bulk up. Kill stuff.

-Lucario

Swords dance, kill stuff.

-Zapdos

Nice staller, charge beam, lightning rod. Kill stuff.

-Cressalia

Dual Screens, support stuff.

-Azelf

Nice lead, and sweeper/revenge killer.

Infernape is also useful.
Dream





Posts

: 1131


Join date

: 2011-02-28


Age

: 21


Location

: Imaginationland



Thanks epic, your unbelievably long post helped me out there. Team will look much better after this =3
_________________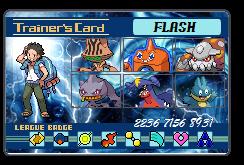 saggot toss anchuro
Frashu's theme:
http://vocaroo.com/i/s08FyHGN0e83
copyright gary saulman
Weeeeeeeell....

Chomp gets trampled by virtually everything Epic said. Hell, Thundurus takes you out with HP Ice. Doesn't even have to Taunt. You just die. Imo, Make Deo an offensive lead (Timid/252 Sp. A, 252 Speed). SR, Ice Beam, Psycho Boost, Shadow Ball/Focus Blast.

As for your Ferro/Gliscor problem,Volcarona trolls them all day errday. If you can get it in for the revenge, neither can take a decent hit. SR would be a problem though.

Now for your true issue. Celebi can fix this.
Celebi - Diamyo (Earthen Soldiers from Japanese myth)
Bold - Leftovers
156 HP, 252 Defense, 100 Speed
Substitute
Calm Mind/Nasty Plot (preference)
Energy Ball/Giga Drain/Leaf Storm/Psychic/Psyshock/Grass Knot
Hidden Power Fire

Pretty simple. Come in on Gliscor. They can't do much to you, and thanks to your speed EVs, they can't do much if they aren't invested in Speed. Now here's where technical shtuff comes in. You Sub while Gliscor goes to Toxic.

"Lawl, SubSeed, to Ferro!"

They switch to Ferro, you start boosting, or go strait for the HP Fire. Its virtually a fact that you won't kill, but it will DEFINATELY scare him out. If he doesn't, he's just cool, and makes dem predictions.

Offensive Zapdos could also defeat both with HP Ice and Heat Wave. Unfortunately, you couldn't get Lighnting Rod, but that isn't crucial.
_________________

Signature's courtesy of Jirachi and Qualna.
http://vocaroo.com/i/s0fjvoWcANfq
War Veterans





Posts

: 1458


Join date

: 2010-09-19


Age

: 23


Location

: South Cali Bitchez



Thanks for the suggestions Evan and thanks again Epic since...Life orb Darm just OHKOED a Toxic heal Gliscor. My team is good now
_________________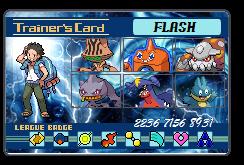 saggot toss anchuro
Frashu's theme:
http://vocaroo.com/i/s08FyHGN0e83
copyright gary saulman
Shadow





Posts

: 30


Join date

: 2010-10-11


Age

: 21


Location

: Bronx NY





Similar topics
---
Permissions in this forum:
You
cannot
reply to topics in this forum