Weekly news
We want to hear from you! Go to the
'General'
section and say what you want to say. Start a new topic if you wish.
Who is online?
In total there is
1
user online :: 0 Registered, 0 Hidden and 1 Guest :: 1 Bot
None
Most users ever online was
50
on Sat Jan 07, 2012 4:00 pm
Statistics
We have
490
registered users
The newest registered user is
Poisonberries
Our users have posted a total of
15557
messages in
1329
subjects

A long time ago I had an idea - create a metagame where only unevolved pokemon were used. No not like spamming NU with them or LC where only half of them can be used - I'm talking about ANY unevolved Pokemon, including second stages.
With generation 6's additions I Think there are enough NFE pokemon to make a stable metagame and hope that nightmare can support me in the idea of this new game. Therefore I decided to make a tournament to stimulate creating the game.
Rules:
-Gen 6 Pokemon allowed
-ONLY unevolved Pokemon can be used. Mega evolutions do not count, keep your Absols and mawiles out.
-Eviolite is banned. It would make the game way too overcentralized.
-All standard clauses such as sleep clause and species clause apply.
How to Join:
-To track usages and to ensure that battle victories are correctly registered, and also to prevent people from having to breed specific NFEs for just 1-3 battles, I have created a Pokemon Online server where people can make teams on-the-fly. You will need to download Pokemon Online (don't worry, it's safe!):
http://pokemon-online.eu/download.php
-After downloading it and getting used to it, put your name here and the name you will use on Pokemon Online. the server is named Pokerealm Online. I got fancy with the name.
-Deadline for applying is November 11.
Prize:
Timid Charmander
IVs: 30/xx/31/31/31/31
Evs: 100 SpAtk / 100 Spd
Egg moves: Outrage
Participants:
BidofoGS (Markiss on PO)
Evan
Awakening
Korasi (Hei on PO)
Frashu (Ouro on PO)
Roster:
Evan vs Frashu
=Frashu
BidofoGS vs Awakening
=BidofoGS
Korasi gets a bye
Round 2:
BidofoGS vs Korasi
Frashu gets a bye
=======
Depending how much people like NFE, I may continue keeping the server up and with the help of other people, develop NFE as a new version of pokemon battling.
Last edited by BidofoGS on Thu Nov 21, 2013 1:36 am; edited 4 times in total
I really don't have any experience in this field, but I'll give it shot because of that handsome prize. I go by Awakening.
War Veterans





Posts

: 886


Join date

: 2011-03-13


Age

: 23



I'm in. I play OU and Ubers, but I'll give this a shot. [WW]Hei or just Hei on PO.
_________________
[16:23:06] L : I can spell and type better than you.
EL GANADOR DEL TORNEO ES : [Brotherhood]Zero
¡Felicidades, [Brotherhood]Zero, por ganar el torneo!
Recibes 150 Pokedólares por haber ganado el torneo
Dream





Posts

: 2087


Join date

: 2010-09-26


Age

: 22


Location

: Central Cali Bitchez



I'll give it a shot.
PO Name: Evan
_________________

Signature's courtesy of Jirachi and Qualna.
http://vocaroo.com/i/s0fjvoWcANfq
War Veterans





Posts

: 1460


Join date

: 2010-09-19


Age

: 23


Location

: South Cali Bitchez



Lol no one PO's anymore...
Dream





Posts

: 220


Join date

: 2011-07-22



That's a fancy prize there.

I'll be Ouro on the PO server
_________________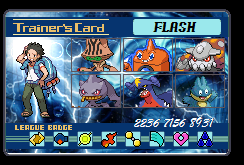 saggot toss anchuro
Frashu's theme:
http://vocaroo.com/i/s08FyHGN0e83
copyright gary saulman
Admin





Posts

: 1123


Join date

: 2010-09-13


Age

: 21



participant list updated. the tournament will start on november 11th after the deadline ends.

EDIT-tournament has started, roster added. please conduct battles when you have time. this is to help develop a metagame so feel free to try out different teams with other players on the server. it could help your chances with the tourney battle, too!
any progress on finished battles? Im not seeing anybody on the PO server....
War Veterans





Posts

: 886


Join date

: 2011-03-13


Age

: 23



_________________

Signature's courtesy of Jirachi and Qualna.
http://vocaroo.com/i/s0fjvoWcANfq
War Veterans





Posts

: 1460


Join date

: 2010-09-19


Age

: 23


Location

: South Cali Bitchez



Round 2 is up. good luck Korashi

---
Permissions in this forum:
You
cannot
reply to topics in this forum