Weekly news
We want to hear from you! Go to the
'General'
section and say what you want to say. Start a new topic if you wish.
Who is online?
In total there are
2
users online :: 0 Registered, 0 Hidden and 2 Guests
None
Most users ever online was
50
on Sat Jan 07, 2012 4:00 pm
Statistics
We have
490
registered users
The newest registered user is
Poisonberries
Our users have posted a total of
15557
messages in
1329
subjects

The Pokemon Game you would want to play a 'hard mode' of:
Ok so Im a hobbyist pokemon ROM hacker and Im bored and wanna redo a game that I havent already done. I did overhauls on Pokemon Red, Gold, Silver, Crystal and Black / White and now Im wondering which game I should start next or if I should even start it.

The hacks I have done so far all include overhauled trainer rosters and levels, overhauled wild Pokemon and some edited maps. I have mainly done this because the noobish trainers in the game are a pet peeve of mine, and I like messing around with maps. If I do Pokemon RSE, I can add scripts to the game and add some really nice new stuff, but I want to choose a game to modify that most people will enjoy. I will be making two versions of the hack, one with some TM, Pokemon type / moveset / ability changes, and one without those.

Vote for the game you would most enjoy playing the above overhaul of, and please let me know if a hack like this already exists for the games I listed in the poll. I know about PerfectSoul and PerfectHeart but I dont think they have overhauled trainer rosters and movesets. If anyone here is interested in helping out with it I would gladly enlist someone (doing scripts alone takes a HUGE amount of time).
Shadow





Posts

: 33


Join date

: 2012-08-23


Age

: 24



Diamond and Pearl really offered nothing extraordinary, at all. A difficulty overhaul for those or even Platinum would be interesting.
_________________
Sig made by
an alpaca
.
Amoongus OP
Dream





Posts

: 930


Join date

: 2011-03-25


Age

: 22


Location

: I'm sexier than Aizen.



I'd like to see a Platinum/D/P redo.

Arguably the least exciting game for me so a better version of it is a good idea.
_________________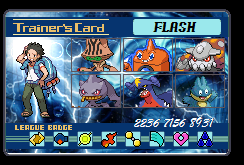 saggot toss anchuro
Frashu's theme:
http://vocaroo.com/i/s08FyHGN0e83
copyright gary saulman
Admin





Posts

: 1123


Join date

: 2010-09-13


Age

: 21



I agree with Flash. Unfortunately, I have yet to be compensated for my 3rd Generation desires, so an Emerald remake is at the top of my list.
_________________
[16:23:06] L : I can spell and type better than you.
EL GANADOR DEL TORNEO ES : [Brotherhood]Zero
¡Felicidades, [Brotherhood]Zero, por ganar el torneo!
Recibes 150 Pokedólares por haber ganado el torneo
Dream





Posts

: 2087


Join date

: 2010-09-26


Age

: 22


Location

: Central Cali Bitchez



D/P/Pt were the worst out the bunch so to improve them would be pretty cool.
_________________
i'm a gay retard hurr durr
Dream





Posts

: 744


Join date

: 2011-03-26


Age

: 27


Location

: United Kingdom



I guess I will work on Emerald for now. I already have a few mods installed, one being an EV-training station with hidden entrances - the game features you as part of a third criminal gang similar to team aqua and magma. Any feature requests? Im hoping not to have to change any pokemons' stats or movepools because IMO that's too far.

EDIT- I will need testers to play the game to make sure that all the trainer levels and wild pokemon levels are okay. I will be working with Emerald for now. I will make a new thread here and on a few other places especially for the new hack so I can keep track of changes, please post in that thread if you wanna help or wanna report a bug. This thread can be locked for now.
Shadow





Posts

: 33


Join date

: 2012-08-23


Age

: 24




---
Permissions in this forum:
You
cannot
reply to topics in this forum