Weekly news
We want to hear from you! Go to the
'General'
section and say what you want to say. Start a new topic if you wish.
Who is online?
In total there are
2
users online :: 0 Registered, 0 Hidden and 2 Guests
None
Most users ever online was
50
on Sat Jan 07, 2012 4:00 pm
Statistics
We have
490
registered users
The newest registered user is
Poisonberries
Our users have posted a total of
15554
messages in
1329
subjects

Introduction
-
Hello everyone! Today, I bring you my most recent UU team. After successfully using my HO OU team to ladder successfully on Pokemon Online (1450 points!
), I decided to build yet another VolTurn team, seeing as the strategy worked very well in OU.
Though the success of this team did not match that of its predecessor (topped out around 1380), it still seems like a solid team nevertheless, and is my favorite go-to for UU tournaments and event. This team has not won any tournaments, but has reached the finals once. That being said, I appreciate any advice to make this team even more successful. Without any further ado, I present team Toben. (after the ladder reset, I usually name my teams after the base pokemon I used)
First Look
-
Team Stats –
PO peak user rank – 23
PO point peak – 1382
PS user rank – 11
PS ACRE – 1811
PS GXE – 84
PS Glicko 2 – 1939 ± 82 (provisional)
Teambuilding Process -
Spoiler:

When creating the team, I knew that it would be centered around a "VolTurn" idea. I then searched for the most devastating pokemon possible that would force TONS of switches and rack up huge damage. Monster pokemon that can U-turn? Enter

Toben

, the Darmanitian.

Next, I needed a pokemon that could hard-core stop Slowbro and other bulky waters such as milotic in their tracks. Staying with the VolTurn theme,

Maya

, the adorable Lanturn, became my second member.

C-Motor

, the fearsome Rotom-C was added third to complete the FGW trio and to make sure that even in the event that Maya was defeated, bulky waters and rhyperior would not stop Toben from spamming Flare Blitz.

My favorite HO lead in OU,

Vallor

the Azelf, was added into the team to ensure stealth rock support, and a powerful exiting move in explosion.

The Xatu

Prophet

was the next member to stop steath rocks and reflect status, crushing pokemon such as amoonguss. Prophet was initially a test, but he was so fantastic in his job that I was very glad to have him. Also, no rapid spin user carries either U-turn or Volt Switch.

I then noticed a large weakness to snorlax, and added

Lien

to the team. The mienshao was an afterthought at first, but proved to be an incredibly valuable early-game player and incredible lure. Lien could also work as secondary lead when Vallor was in an unfavorable situation, and could bait many pokemon into using SR and switching to Xatu.

Lien's SR luring tatics were so incredible that I considered dropping SR from Vallor entirely. Lien was a fantastic lead, and I found myself using her in the lead spot so often, that Vallor's position as a suicide SR-er became borderline obsolete. Noticing this, I replaced Vallor with

Glide

, simultaneously gaining great defensive synergy with Maya.

I soon noticed that Glide was doing little but acting as set-up bait with no phazing move. I replaced him with the ferocious scarfer

Sandra

, shocked at my omission of UU's best chiocer and my own favorite pokemon. I haven't looked back since.
In Depth
Lien
(Mienshao) @ Life Orb
Trait: Regenerator

252 Atk | 4 SDef | 252 Spd

Jolly Nature [

+ Speed, - Special Attack

]

Moveset

Fake Out - Fake Out is a very standard move on lead/scout Mienshao, and help Lien break opposing sashes and even kill low-health opponents. It may not seem critical, but I can name a few matches when Fake Out with its incredible priority has saved my whole team. It's free damage, and although it's neither STAB nor high powered, with 125 attack and LO, it does do something. However, I often opt not to use it mid-game on pokemon 0hko'd by another move, as even 4x resisted on a switch HJK will do more than this will.

Hi Jump Kick - Standard move on Mienshao with incredible base power off of Mienshao's incredible attack. It's a bummer when it misses, but I'll never run drain punch's 75 base power even when it heals. Also, I don't have ghosts switch in too much as I tend to spam U-turn a lot.

Stone Edge - Another standard move that is used for coverage against foes such as Zapdos, psychics, and everything that resists fighting. To put Mienshao's power into perspective, stone edge on offensive Zapdos 0hko's 90% of the time without SR or fake out.

U-turn - The spammy switch out move we all love to hate. Mienshao's best move against slowbro, and a great move to gain momentum.
Why This Pokémon?


Lien is fast, powerful, and has an amazing ability in Regenerator, meaning every time she switches she gets a third of her health back, amazing for healing recoil and very convenient with the use of U-turn. More importantly, she is my only powerful non-choicer, and has more flexibility and better match-ups than most of my pokes.
EVs, Nature, and Item
Standard offensive pokemon spread to maximize damage and speed, and make download users get a Attack boost, though I'm considering putting 24 EVs into defense to survive Flygon's outrage in messy scenarios. Jolly for max speed, and Life Orb for additional damage that is conveniently healed by Regenerator.

Prophet
(Xatu) @ Leftovers
Trait: Magic Bounce

252 HP | 252 Def | 4 SpD

Impish Nature [

+ Defense, - Special Attack

]

Moveset

U-Turn - All of my pokemon pack some variant of this move, which is incredibly useful for scouting the switch-in. It's very weak because of the lack of investment, but the purpose is to switch, not rack up damage. Great when I come in on a pokemon that relies on status to do damage and tries to flee.

Roost - Excellent healing move that restores 50% of my health in one turn, and also removes my flying weakness. With this, Prophet can stall out weak ice beams, stone edge, and thunderbolts after ensuring their slowness with twave. However, it's often best to switch to Maya in these cases.

Night Shade - Due to the lack of investment and Xatu's poor offensive stats, Night Shade is Xatu's main method of dealing reliable damage. Psychic is not used because it doesn't to very much damage anyways, and Xatu is usually pitted against defensive steel-types; the ones that use SR.

Thunder Wave - I use Twave to cripple zippy pokemon on the switch or to set up for a kill to one of my powerhouses. Also, slows down opponenst so I can roost and avoid SE hits on ice/elec moves.
Why This Pokémon?


I have absolutely no spinner or stall-stopper, meaning that Prophet is incredibly invaluable in those ways. I also don't have a SR user, meaning that a predicted magic coat bounce is the only way I can get SR on my opponent's side and keep it off my own. Also, prophet has a very slow U-turn which is useful to get one of my sweepers in safely.
EVs, Nature, and Item
Although the standard Xatu invests in Special Defense, Prophet is physically defensive to take as much of an advantage as possible of his 4x resistance to fighting, especially as most stealth rock users are physically based. Leftovers are used to add to Xatu's bulk.

Toben
(Darmanitan) @ Choice Scarf
Trait: Sheer Force

252 Attack | 252 Speed | 4 SpD

Adamant Nature [

+ Attack, - Special Attack

]

Moveset

U-Turn - Weapon of choice against slowbro, and used to gain momentum.

Flare Blitz - 120 base power, positive-natured, boosted by Sheer force, STAB'd, and on a 140 base attack stat? Even with no boosting item, Flare Blitz is pure destruction. As a show of strength, Gliscor is always 2hko'd by Flare Blitz, even with toxic heal!

Earthquake - Earthquake is secondary coverage, and is used for pokemon like Arcanine. However, I find that I've never used it much at all, as I prefer to U-turn out of Arcanine, and rock types are hit harder by superpower anyways. Though gimmicky, I am considering using encore in this slot to stop Honchkrow from walking over my team.

Superpower – Superpower is used for coverage with Flare Blitz, smacking snorlax, porygon, and rock-types harder than Earthquake and Flare Blitz can.
Why This Pokémon?


Toben is my main powerhouse with his massive fieldclearing Flare Blitz, which punches large holes in opponents mid-game. He defeats the grass types that give Lanturn trouble, while luring in bulky waters only to U-turn to Rotom-C, who can hurt the opponent even more with Specs Vswitch. Even resistors, such as Flygon, are 2hko'd by Flare Blitz. Toben also acts as an offensive pivot, forcing pokemon to switch out only to U-turn and gain momentum. When crazy ape comes aboard, people better duck!
EVs, Nature, and Item
The EVs are standard offensive spread to maximize damage and speed. Choice scarf is used to outspeed pokemon such as heracross, and works very well with U-turn and Toben's huge attack stat. Toben was formerly LO'd but the lack of speed was often disappointing, leading me to slap a scarf on him.
C-Motor
(Rotom-C) @ Choice Specs
Trait: Levitate

252 SpA | 4 SDef | 252 Speed

Modest Nature [

+ Special Attack, - Attack

]

Moveset

Volt Switch - All of my pokemon pack some variant of this move, which is incredibly useful for scouting the switch in. Volt Switch is incredibly useful for tearing apart opponents with Slowbro, Milotic, or any bulky water apart. My opponents then have the option of staying in and having their pokemon and ability to stop my physical attackers dismantled, or switching to a new pokemon. If they switch to a new pokemon, then it must take a STAB volt switch off of a 509 base SpA, and then, contend with the next switch in to counter that pokemon, allowing me to regain momentum.

Leaf Storm – Standard ridiculously powered STAB that is used when the opponent has no resists. Leaf Storm is actually almost as strong as Latios's Draco Meteor. Another benefit of Leaf Storm is that ground-type opponents become leery of coming in on volt switch in feat of this move.

Hidden Power Ice - HP ice is used for neutral coverage alongside Voltswitch and LeafStorm, and hits grass types, most notably shaymin and tangrowth. I also use HP ice to finish off low-health opponents when the opponent has a ground-type in the wings.

Trick – Trick is the move I use for defensive pokemon such as Porygon2 and Clefable, or, when I'm feeling up for a risk, before set-up sweepers to lock them into a boosting move. I can then volt-switch out as the opponent rescues their set-up sweeper to a new counter to the incoming pokemon.
Why This Pokémon?


Rotom-C defeats the bulky waters and physical walls my other team members have issues with, and provides another way of bypassing bulky waters should Lanturn fall early in battle. Also, C-Motor has excellent synergy with the team, as part of a FGW core and Volt Switch-er alongside my many U-turn users. Rotom functions as a midgame wallbreaker and go-to for rocks and rhyperior.
EVs, Nature, and Item
C-Motor began his journey as a fast revenge killer, timid with a choice scarf back in the day when I still carried Azelf. When Flygon was added to this team, I decided that I had plenty of speed in my team, and 3 scarfers was overkill. Also, I decided that most of my targets were slow, bulky pokemon such as rhyperior. Modest is to ensure Max power without lowering defense, and a specs is to turn Rotom into an offensive juggernaut. A special note is to change the IVs to max speed and lower defense and attack, which beats out all other Rotom-C's that forget.

Maya
(Lanturn) @ Leftovers
Trait: Volt Absorb

52 HP | 252 Def | 204 SpA

Calm Nature [

+ Special Attack, - Attack

]

Moveset

Volt Switch - All of my pokemon pack some variant of this move, which is incredibly useful for scouting the switch in. Volt Switch is excellent for scouting the switch in when I wall the opposition completely such as in situations against Zapdos, Raikou, or Blastoise/Bulky water, and allows Maya to function as a defensive pivot and regain momentum with a slow volt switch out.

Scald – Secondary STAB with nice burn chance for catching physical attackers on the switch. Even with no investment, it still 2hko's common threats such as steelix, rhyperior, and arcanine.

Thunderbolt - It might seem very odd to have both Volt Switch and Thunderbolt in the same set, but it has been useful in situations when Maya does not want to switch out, such as versus Slowbro and Honckrow. Slowbro is mentioned especially because I do not want Maya to be forced to switch out and subject one of my other pokemon to scald or psychic, as volt switch only does about 48% to standard defensive Bro. It is also much stronger than Volt Switch is, and is Maya's strongest move with this set.

Heal Bell – Heal Bell allows lanturn to function as a cleric, turning ice beam freeze from gamechanging hax to annoyance and preventing thunderwave from ruining mienshao entirely. In Lanturn v lanturn situations, the one with heal bell wins, and I want Maya to come out on top when faced with another one of her kind. Heal Bell also allows me to use one of my pokemon as a sleep absorber early game, and then prevent them from being dead weight once lilligant/amoonguss has been eliminated.
Why This Pokémon?


Maya is a superb special tank and defensive pivot, helping me with bulky waters and special attackers with her almost-exclusive resistance to BoltBeam. Maya also completes the FGW core. However, in situations necessitating for me to sacrifice a pokemon, it is usually either C-Motor or Maya who goes, as they both block similar pokemon from running over my team. Maya also is also tied with Xatu for having the least KO's per match, but her excellent defensive typing makes her worth a team slot, along with her key resistances to ice and fire. And besides, Lanturn is just soo cute
EVs, Nature, and Item
Maya has the standard smogon EV spread to hit a leftovers number, prevent night shade from 4hkoing, take maximum physical damage, and still have the ability to tank essentially any special move. A calm nature is used as Lanturn is a special tank, as Xatu is usually called out to deal with physical threats.

Sandra
(Flygon) @ Choice scarf
Trait: Levitate

252 Attack | 4 SDef | 252 Speed

Jolly [

+ Speed, - Special Attack

]

Moveset

U-turn – U-turn is used to gain momentum in the middle of the match, and also scouts the switch-in when the opponent tries to escape an earthquake. U-turn is excellent for luring a pokemon such as slowbro, and then switching out to Rotom-C or lanturn. U-turn also allows me to play prediction games

Earthquake – One of Sandra's fantastic two STABs. Deals terrific damage due to its high base power with no negative sideffect, and hits many pokemon in UU super-effectively. Has excellent coverage with Outrage, as everything that resists outrage bar bronzing is hit at least neutrally by Earthquake.

Outrage - Outrage's high base power lets it have the ability to take a large chunk out of anything that doesn't resist it. I often spam it late game due to its ability to 2hko a huge portion of UU. However, I have to be extraordinarily careful with outrage due to its "locking in" effect, so I try not to KO an opponent with it mid-game if there is a steel pokemon still left in the opponent's party. Also, a glitch in PS causes outrage to always hit three times, which is a boon in some situations, but often leads to an opposing cobalion coming in, subbing, and SD'ing up.

Fire Punch / Toxic – The fourth slot is mostly filler, but fire punch does have some utility in hitting Escavalier. However, I haven't seen Escavalier very much, and EQ hits everything fire punch is 2x against just as hard. Also, Fire Punch doesn't do too much to Bronzong despite its double-effectiveness, and grass types are hit almost as hard by U-turn. However, Fire Punch nails heracross effectively mid-game when I don't want to use outrage in fear of a 3-turn lock in. Toxic is in the last slot for hitting Slowbro, Suicune, Gligar, and bulky waters on the switch, but most of the time I'm better off U-turning out.
Why This Pokémon?


Why is this question even asked? Flygon is simply the most awesome pokemon ever created. Nuff said (Flygon is the best scarfer in the tier, speed-ties and defeats Victini, counters heracross, outspeeds Darmanitian and all other reasonable scarfers, most of which are a major threat to my team)
EVs, Nature, and Item
Standard offensive spread to maximize speed and damage potential, with the remaining EVs placed in SpD to prevent downloaders from raising their special attack.

Former Members –
Vallor (Azelf) @ Normal Gem
Trait: Levitate
EVs: 4 HP / 252 Atk / 252 Spd
Jolly Nature
- Taunt
- Stealth Rock
- Explosion
- U-turn
Vallor was in the first run of my team and was relatively sucessful, but was taken off the team due to his low bulk and inability to deal with victini and scarfcross, two pokemon that Sandra the flygon now handles with ease. Although I miss the guarunteed stealth rock, I often find that Lien is a better lead in the fast-paced NU metagame, where most pokemon can 0hko Azelf.
Solaster (Victini) @ Choice Band
Trait: Victory Star
EVs: 252 Attack / 252 Spe
Adamant Nature
- V-Create
- Fusion Bolt
- U-turn
- Brick Break
Victini was present as the base in the very first edition of the team, but was thrown out in favor of Darmanitian due to the latter's greater attacking power and Flare Blitz's better sideffect. Though Victini has more bulk, Darmanitian's greater attacking presence and lack of liability to pursuit made him the eventual choice.
Glide (Gligar) @ Evolite
Trait: Sand Veil
EVs: 252 HP / 252 Def / 4 SpD
Impish Nature
- Roost
- Stealth Rock
- Earthquake
- U-turn
Glide was introduced after Vallor was removed to set SR up and have a defensive core with Lanturn. However, Gligar did not fit with the fast-paced nature of the team, dealing very little damage with EQ and contributing very little other than occasionally putting down SR (I u-turned most of the time, as the opponents often switched to a counter before Glide could even say cheese). The final nail in the coffin was the lack of a phazing move, which quickly turned Glide into a setup bait. Although I miss the means of walling heracross, Glide couldn't even take Honckrow which could sub and BB until I died.
I'm Considering -
P.S. All of my Pokemon have nicknames with meanings in them! See if you can figure them out
Last edited by Lynjabear on Wed Aug 08, 2012 1:56 pm; edited 4 times in total
An extremely solid team, but I have one question.

Have you ever tried like Landorus in place of Mienshao?


Mienshao is really weak to hax which is why ONLY reason why I never use it, and just use Landorus instead as an anti-lead.
_________________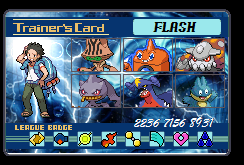 saggot toss anchuro
Frashu's theme:
http://vocaroo.com/i/s08FyHGN0e83
copyright gary saulman
Admin





Posts

: 1123


Join date

: 2010-09-13


Age

: 21



Very solid indeed. No blaring weaknesses. So yeah. Great job. Battle me sometime.
Flash wrote:An extremely solid team, but I have one question.

Have you ever tried like Landorus in place of Mienshao?


Mienshao is really weak to hax which is why ONLY reason why I never use it, and just use Landorus instead as an anti-lead.
Uh, this is UU. Isn't Landorus OU?
Lynjabear wrote:

Flash wrote:An extremely solid team, but I have one question.

Have you ever tried like Landorus in place of Mienshao?


Mienshao is really weak to hax which is why ONLY reason why I never use it, and just use Landorus instead as an anti-lead.

Uh, this is UU. Isn't Landorus OU?
Oh, it's UU? Wow. It's viable in OU.
Evidence that people didn't read it -
Hello everyone! Today, I bring you my most recent UU team.
First sentence...
Lynjabear wrote:Evidence that people didn't read it -

Hello everyone! Today, I bring you my most recent UU team.

First sentence...
I don't do well with flashy introductions.
Gligar is a defensive beast .-. I usually run Toxic over U-Turn. Taunt also does well.

Other than that, solid team.
_________________

Signature's courtesy of Jirachi and Qualna.
http://vocaroo.com/i/s0fjvoWcANfq
War Veterans





Posts

: 1457


Join date

: 2010-09-19


Age

: 23


Location

: South Cali Bitchez



I thought Mienshao was OU? Hmm. Must be wrong.
_________________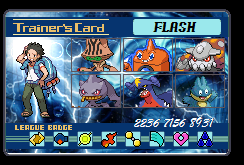 saggot toss anchuro
Frashu's theme:
http://vocaroo.com/i/s08FyHGN0e83
copyright gary saulman
Admin





Posts

: 1123


Join date

: 2010-09-13


Age

: 21



Flash wrote:I thought Mienshao was OU? Hmm. Must be wrong.
I think that she got dropped down.
Evan wrote:Gligar is a defensive beast .-. I usually run Toxic over U-Turn. Taunt also does well.

Other than that, solid team.
I actually removed Gligar from my team because he was being stall fodder/ setup fodder. My team is very HO except for Gligar and has no phazers, meaning that if say, a confagrigus was able to come in on Gligar, she could potentially sweep my whole team with NP + shadow ball if Lanturn was at low enough health. Something like Durant would give me issues, after hone clawing and then eventually killing gligar with iron head.
I forgot to attach a threatlist, but here's a list of pokemon who give me trouble - (rarely, sometimes, always)

Aerodactyl - Aerodactyl is SR lead 90% of the time. When I see it with less experienced players, I lead with Flygon to discourage Stone Edge and encourage SR, U-turn to Xatu, and reflect those rocks onto my opponent's side. Once I'm against a person who is very good and has Aerodactyl in the lead, I'll start with Xatu, twave turn 1, and roost. Stone Edge won't 0hko unless it has LO, which is actually very rare on leads. Midgame ones don't trouble me as much, as I fear SR more than I fear its attack stat, and Rotom-C isn't KO'd by any of his moves and can 0hko with Volt switch. Aerodactyl isn't actually that common in UU, but it's still good to have the ability to beat him.
(no image because I refuse to have that ugly beast on my thread)Ambipom - Oh, this thing is annoying. People usually lead with it, and unfortunately, Xatu is 3hko'd by Fake Out and two returns. Usually I absorb the first fake out with Mienshao (using fake out turn 1 just in-case he decides to be a smarty and U-tun out) then switch to Xatu, letting Regenerator heal some of the chunk fake out has taken out of me. I can then go to Xatu, thunderwave the switch as Ambipom switches out, or sometimes, hit Ambi itself, and repeat until later game. Pursuit variants give me much less trouble. Mid-game, Flygon easily kills with Outrage or Earthquake. 4 of my members can beat it 1v1 if the situation calls for it (Maya, Toben, Sandra, Xatu) but it always leaves a few fake out marks on the team before it goes down.
Bisharp - I usually loose a pokemon if it sets up. However, I really don't let it set up. Annoying if it comes in on Xatu, but usually Xatu doesn't kill anything so it doesn't have a chance to come in after a kill, and I like to U-turn a lot with Prophet if I see it in Preview.

Chandelure - is the reason I use lanturn, lol. My team can outspeed/kill Specs/Orb easily, but I don't know what set it uses until it attacks. Usually I switch in with Lanturn, and if it Fire Blasted/Overheated, happy day! Based off the damage it did, I can tell what set it has. (About 40% is +specs, easy revenge kill later with flygon, darmanitian, rotom, Mienshao, wimpy damage is scarf, in between is =specs, and LO is obvious) Unfortunately, Lanturn is 2hko'd by both energy balls on specs and 2hko'd by positive spec shadow ball if they predict the switch in. However, I can then know that it is revengeable by many of my pokes. Lanturn walls scarf completely.

Darmanitian - is there ever an HO team that doesn't have issues with this? Flygon outspeeds all variants (luckily) my Darmanitian speed ties with the most common scarf variant, and mienshao defeats all those that are not scarfed. Flygon can switch in on a flare blitz, and based on the damage I can figure out what set. Then I can EQ or U-turn out after knowing the set. Lanturn can take flare blitzes, but not earthquakes. Because it's usually choiced I can play prediction games with the opponent, and hopfully I'll come out on top. I know it's LO when I switch in lanturn, switch back out to Flygon, and it EQs.

Flygon - Ohh boy. Flygon's awesomeness makes it impossible to counter. Jokes aside, my favorite pokemon is ironically one of my greatest threats to this team. 100 attack stat isn't that great, but my lack of physically defensive pokemon can get me into a pile of muck. None of my pokemon really like eating an outrage, though Rotom-C can take one outrage, and 0hko back with HP ice. Sandra, mygon, speed ties with the fastest variant, but I really don't like taking that risk with mygon (
btw, flygon rhymes with Qui-gonn too if anyone has missed that). Xatu is never 2hko'd by outrage and can roost until the meanie gon gets contused, but if he's taken prior damage (like SR, which should never happen) he's in trouble. If its not scarfed (which all flygons should be) mienshao can humanely knock it out with Hi Jump Kick. Flygon can even troll me by not attacking and U-turning out to another pokemon, messing up my momentum entirely. I often loose a pokemon to UU's greatest.

Heracross - If I don't have the momentum then this could get messy, fast. It's attacking power is frightening, but it's the scarf variants that trouble me, as anything slower I can defeat with most of my pokes. Flygon's my main go-to and can switch into any move and KO in return it he's at 80%, ohko if he CC'd, and also can come in practically free if he EQ/Stone edges. Xatu 4x resists CC, but must avoid stone edge like the plauge (though it won't KO). Darmanitian outspeeds it and flare blitzes as well, and all non-scarfs are taken care of rather easily.

Honchkrow - Switch to lanturn, who can take it pretty easily if it doesn't have a boost. The idea is not to let it get one, and switch to lanturn right as you see it. Mienshao can take it 1v1, and so can flygon, darmantian and Rotom-C, but if it kills something I really have to close my eyes and hope for a miracle (but this should never happen in a normal match). I try to leave lanturn untouched until this thing comes out.

Kingdra - Oh my god. If it's the rain dance one, I'm in for it. The DD ones give me minor trouble, but I can switch into flygon and force it out as it DD's, as kingdra users never outrage turn 1. The rain dance ones I can't let have a turn of setup, which can be trouble if I have the wrong poke out (namely, darmanitian) I can usually stop it if I have any member out but Darmanitian (Flygon KO's before it RD's, Lanturn stays in and Tbolts and can take 2 Dmeteors, and Vswitches to Mienshao second turn, fake outs, switches lanturn, lanturn dies, Mienshao fake outs again for the kill. Mienshao KO's with Fake Out and HJK, Rotom-C has 87% chance to 0hko with Lstorm). But I have to do the Lanturn maneuver (explained earlier) which involves sacrificing Maya and fake outing it to death if he manages to get RD up. Usually kills a poke a match (unfortunately Lanturn). Kingdra is the only pokemon that almost always kills one of mine a match.

Machamp - Just bulky enough to be annoying. Go XATU. His other attacks (ice punch, stone edge) hurt, and it's very annoying if I get haxed with confusion while trying to roost. Mienshao Kos with Fake Out + HJK, and Machamp dies to Flare Blitz.

Ninjask - Using this thing as a stand in for baton pass teams, which I hate. Almost always a lead. I look at his team, and guess his recipient. usually, it's something like marowak. I then lead with the pokemon that can always break the sub and deal terrific damage to the switch in, such as darmanitian. I attack until he's down to low health, but usually he gets away with the speed pass, but he usually can't do anything but pass speed, and his switch in is usually left down to 75%. Baton Pass teams aren't common at all though, as I've only seen one in about 50 matches.

Rhyperior - this thing makes me mad becuase it has SR, and can KO Xatu if I lose the prediction game. Mienshao KOs it once it's below 75%, lanturn 2hko's it, and Rotom-C massacres it. The trouble is making sure it doesn't SR, not in dealing with the actual pokemon.

Snorlax - Mienshao kills it, Darmanitian 2hko's it, but it's annoying because it's almost always paired up with slowbro, and Darmanitian especially does not like to be locked into superpower when Slowbro comes in. The rest variation is more troublesome than the offensive. If both mienshao and darmanitian are down (which should never happen) prophet can actually stall body slam out (lol). Flygon 3hko's it, which isn't great, but can take 2 body slams and prevent it from healing again.
Interestingly enough, I have not have any issues dealing with any defensive threats.

---
Permissions in this forum:
You
cannot
reply to topics in this forum