Weekly news
We want to hear from you! Go to the
'General'
section and say what you want to say. Start a new topic if you wish.
Who is online?
In total there are
2
users online :: 0 Registered, 0 Hidden and 2 Guests
None
Most users ever online was
50
on Sat Jan 07, 2012 4:00 pm
Statistics
We have
490
registered users
The newest registered user is
Poisonberries
Our users have posted a total of
15557
messages in
1329
subjects

Suggestion for how to decide Elite Four / Champ / Gym Positions -

I think that battling admins is a good enough test for the gym positions, but for the Elite Four and Champion positions, I think there should be a ladder competition on PO, as in the highest peak, in say a week, or the highest amount of points. I say this with because battling admins, it's only a few fights, and hax, luck, or eccentricies/gimmicks on either team could really throw off the results. With laddering, the contestant faces a wider range of opponents, most very powerful as the contestant for one of the slots climbs, and one haxy match won't really sway the team too much.
Dream





Posts

: 1131


Join date

: 2011-02-28


Age

: 21


Location

: Imaginationland



That really sounds like a great idea, and it does prove to show how one can fight many opponents, the role of an E4 member. hmm..
_________________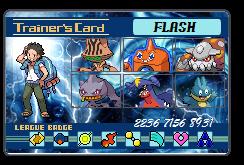 saggot toss anchuro
Frashu's theme:
http://vocaroo.com/i/s08FyHGN0e83
copyright gary saulman
Admin





Posts

: 1121


Join date

: 2010-09-13


Age

: 21



There really shouldn't even be a Champion until we have everyone else set up first. Then if someone can go through the league normally, they can have champ. That's my take on it at least.

Anyway, you mentioned certain PO competitions potentially working, but that too depends on a certain amount of luck-particularly whom you get matched with and their skill. Back when I played, I would have days where I got so many wins it wasn't even funny, and then others where I would get my team stomped all day. That's why I think something on a smaller and more local scale, such as a tournament for those interested, would be more effective in choosing E4 members.

That said, the only problem with a tournament would be organization. Deciding E4 members in that way, depending on the size of applicants, could take quite a while. Couple that with needing at least a best 2/3 system to avoid hax causing problems and you could have a problem. If we can pull it off well enough and everyone would show up if dates were mentioned, I'd be fine with that. In fact I'd like it much more than admins deciding, considering we really only have two who can battle and even then it's sketchy since it isn't as fool-proof as a tournament, at least in my opinion.

_________________
Sig made by
an alpaca
.
Amoongus OP
Dream





Posts

: 929


Join date

: 2011-03-25


Location

: I'm sexier than Aizen.



Why not make it so the top four gym leaders with the best record become elite 4 ?
Dream





Posts

: 220


Join date

: 2011-07-22



That's disadvantageous for those with worse types. For example, a mono-dark gym might have a harder time coping than water, simply because of the nature of that type and the amount of pokemon available.
Dream





Posts

: 1131


Join date

: 2011-02-28


Age

: 21


Location

: Imaginationland



Well doesn't your method also disadvantage those with limited Pokemon?

Also I think if someone with a good record uses a less diverse type like dark I would say they are better than the water user with an equal record, all comes down to the player's ability.
Dream





Posts

: 220


Join date

: 2011-07-22





Similar topics
---
Permissions in this forum:
You
cannot
reply to topics in this forum