Weekly news
We want to hear from you! Go to the
'General'
section and say what you want to say. Start a new topic if you wish.
Who is online?
In total there are
2
users online :: 0 Registered, 0 Hidden and 2 Guests
None
Most users ever online was
50
on Sat Jan 07, 2012 4:00 pm
Statistics
We have
490
registered users
The newest registered user is
Poisonberries
Our users have posted a total of
15557
messages in
1329
subjects

Today, I went into PO and saw 2 new tiers, one which was middle cup. Middle cup is a tier when only middle evolutions are allowed, and all the pokemon are set to Lv. 50 as opposed to Lv. 100. Because of this, Middle Cup is a very narrow metagame, and based on what I have seen, is not extraordinarily popular. Because of this, the team I am about to show is not very well-tested, as only a couple people were on at once.
Roids (Machoke) (M) @ Evolite
Trait: No Guard
EVs: 252 HP / 252 Atk / 4 Def
Adamant Nature (+Atk, -SAtk)
- DynamicPunch
- Payback
- Bullet Punch
- Ice Punch
Roids! The mini-machamp! This is exactly the same machamp set so often seen last generation in the lead spot, with an Evolution Stone attached for good measure. With an Adamant nature and a massive (by MC standards) base attack of 100, dynamic punch hits hard, and has a handy 100% confusion rate. However, Evolites are so common in MC (and in this RMT) that it often doesn't guaruntee a 2hko with bullet punch and relies more often on confusion. Also, because of a lack of rapid spin users, the opponent almost always gets an unshakable stealth rock up. Payback hits everything at least neutrally that Dynamicpunch does not, and bullet punch picks off weakened foes and is a reasonable form of priority. Ice punch is mostly filler, as payback and Dpunch hit everything almost as hard as even the super-effective targets. Roids has the bonus of taking out Rhydon, Chansey, and Porygon2, top threats in MC.
Spyware (Porygon2) @ Evolite
Trait: Analyze
EVs: 252 HP / 184 Def / 4 SAtk / 68 SDef
Bold Nature (+Def, -Atk)
- Thunderbolt
- Ice Beam
- Toxic
- Recover
If it is used in OU, why not MC? Spyware does brilliantly, tanking essentially everything the metagame can throw at it and relatiating with a base 105 SpA, massive even without investment. Thunderbolt and Ice Beam can 2hko everything in the metagame except for other porygon and chansey, analyze helping make Spyware into an defensive juggernaut. porygon and blissey can be crippled with toxic and get drawn into a long, brutal, stall war. Trace isn't used because pokemon in MC don't really have useful abilities to take and therefore wall, (such as water absorb and Flash Fire) and analyze is useful. Porygon2 is completely overpowered, and has the highest base stat total of all MC's as well. The only thing that can take this out is toxic and stalling, the reason I have a cleric.
Pandora (Whirlipede) (F) @ Evolite
Trait: Poison Point
EVs: 252 HP / 252 Def / 4 SDef
Careful Nature (+SDef, -SAtk)
- Toxic Spikes
- Spikes
- Poison Jab
- Rest/filler
Pandora, the whirlipede, is my third team member. Toxic Spikes is extremely useful to my stalling techniques, and spikes add another level of entry hazzards, and Pandora herself can absorb toxic spikes as well, extremely important for Joy and Spyware. Spikes is for opponents that simply can't touch me and is a good thing to do with spare turns, and poison jab is STAB, and actually gets reasonable coverage in MC. Rest is mostly filler, but can be used to abuse the cleric powers of chansey.
Joy (Chansey) (F) @ Evolite
Trait: Natural Cure
EVs: 252 HP / 252 Def / 4 Spd
Bold Nature (+Def, -Atk)
- Heal Bell
- Wish
- Protect
- Seismic Toss
Joy is the second overpowered normal-type wall on my team. She can take literally any special attack thrown at her, as well as essentially any physical one. Heall Bell and Wish support my team, and protect and wish together form a pseudo softboiled. Seismic Toss works well in the last slot, as 51 Hp substitutes are essentially non-exsistent in MC and most MC pokemon have no reliable form of recovery.
Volts (Electabuzz) (M) @ Life Orb
Trait: Static
EVs: 4 Atk / 252 SAtk / 252 Spd
Naive Nature (+Spd, -SDef)
- Thunderbolt
- Substitute/Volt Change
- Focus Punch
- Hidden Power [Ice]
Volts is my main attacker. Thunderbolt nails most MC pokemon hard, even with their attached Evolites, and substitute aids prediction and adds a buffer for focus punch. Focus Punch hits chansey, giaru, magneton and porygon extremely hard on the switch, and hidden power ice provides coverage alongside thunderbolt. I'm still debating on wheter to change sub to volt change in the second slot for favorable switches, but rhydons switch in so often that substitute is often more worth it. Because of the insane amounts of recoil, electabuzz is often the recipeint of wish passes. I also need a new name for this pokemon, as volts is admittedly awful.
Willa (Haunter) (F) @ Choice Scarf
Trait: Levitate
EVs: 252 SAtk / 4 SDef / 252 Spd
Timid Nature (+Spd, -Atk)
- Shadow Ball
- Hidden Power [Fighting]
- Thunderbolt
- Venom Shock
Finally, the scarfer, haunter. Shadow ball is the main STAB of choice as it was on big brother gengar, and hidden power fighting provides completely unressisted coverge in MC with shadow ball. Thunderbolt is mostly filler, but hits crocanow harder, the only truly common type in MC, and venom shock can sweep teams late game and has often due to the rareness of the steels and toxic spike and spike support. With 3 layers of spikes down and t spikes, it 0hkos everything not ressisting it or not named chansey or porygon2. Willa can actually come out on top with chansey, due to the fact that seismic toss and toxic don't affect it and because it will eventually be worn down by the toxic spikes and repeated venom shocks.
The synergy might not look effective, but it actually does work. For example, it looks like a kadabra would tear this team apart, but blissey and porygon stop it in its tracks.
Last edited by Lynjabear on Wed Aug 08, 2012 4:43 pm; edited 1 time in total
Hmm, this new tier is interesting and all but I can't really figure out how in the world you can kill the normal type eviolites, (Chansey and Porygon2) with only middle evolution Pokemon.

Machoke would pull a dent but I'm sure there's a simple counter to it. Electivire can't even pull a 5hko on Eviolite Chansey, perhaps there's an eviolite clause or something?
_________________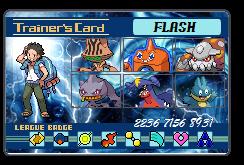 saggot toss anchuro
Frashu's theme:
http://vocaroo.com/i/s08FyHGN0e83
copyright gary saulman
Admin





Posts

: 1121


Join date

: 2010-09-13


Age

: 21



The only real way to kill the normal evolites is basically to have them kill each other with toxic and hope they don't have a cleric, lol. They should have a no evolite clause, but then again, it's not banned in little cup.

EDIT - They just made an evolite clause, literally overnight
When I heard of this tier, I thought it would be fun, but then I realized the standard Chansey/Porygon2/Dusclops on every team. Now with a Eviolite Clause, I think I might give it a go.
War Veterans





Posts

: 886


Join date

: 2011-03-13


Age

: 23



yeah, this team got EDITED after evolite clause came up. Hyper offensive got a lot more viable without walls on all corners. I'll post another RMT later probably...

---
Permissions in this forum:
You
cannot
reply to topics in this forum